Welcome To The Bread Scorer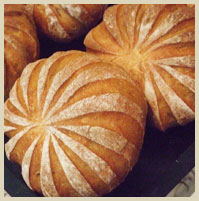 The Art of Bread Making
Bread making has been around for centuries, and with advancements in tools and with the freshest ingredients breads have never tasted better. Whether its French bread, Baguettes, Italian bread, or Sour Dough breads they are all special to the baker who make them and he leaves his mark on every loaf. The tool bakers use for making his mark on loafs of bread is the called a "Lame". A Lame is used to score raw dough to allow moisture to escape and give the bread the proper bloom.
The Bread Score is the perfect tool for the baker to use when safety and efficiency is required.
Eliminates the hazards inherent with handling bare double edge razor blades. No Cuts – No Lost Blades – No Problems
The folding style allows it to be safely carried and put away
The blades are securely attached to the handle, they will not fall off and end up in the dough.
It uses a shaving quality stainless steel razor blade, manufactured in the USA
Light Weight and Small – 8 Grams total weight and the blade is 2.5 " long
Cost effective and safe, recommended by NY state food safety inspectors
100% manufactured in the United States of America.
Our Product
Scoring Raw Bread Dough
The Bread Scorer,
Small – Economical – Safe
The Finished Product
Beautiful Bread